30th Apr 2008
| | |
| --- | --- |
| A Very Long & Chocolaty Blog | |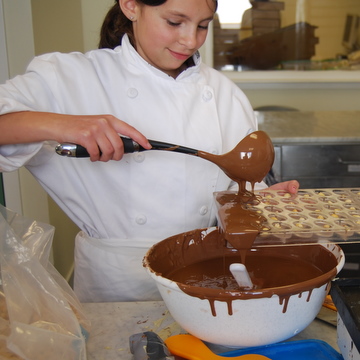 Tamsin: Last weekend Carla, my sister Joanna and I indulged ourselves wholeheartedly in chocolate. For one blissful Sunday we melted, poured, tasted, snapped, scrapped and messed about with it. This treat was provided by Coco Chocolate of Edinburgh, a small independent chocolate shop that provides a course for those of us with the chocolaty passion to learn the skills needed to produce wonderful chocolate.
The pictures tell the story, so I make no apologies for the length of this blog or for the envy it will evoke.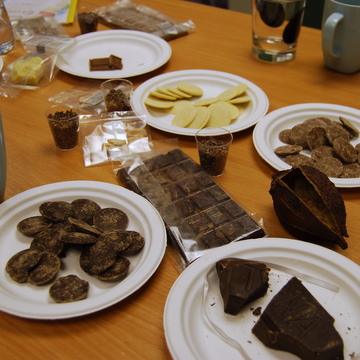 The day began with a tasting and discussion on the history and origins of chocolate.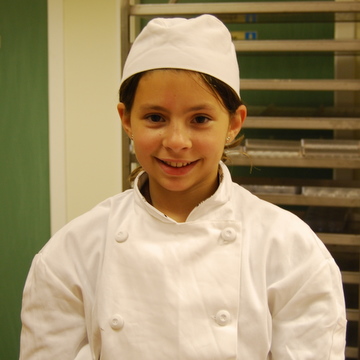 We then moved into the kitchen having changed into chefs' whites – very much needed when you saw the colour of them by the end of the day.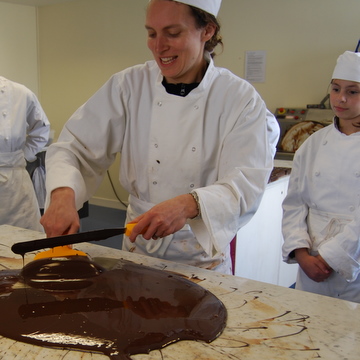 We first learnt how to temper chocolate – great fun, with plenty of action, elbow grease and pinpoint temperature readings.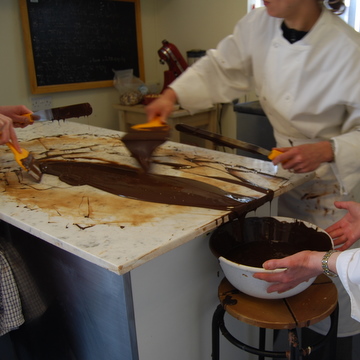 Joanna did the best temper with the most shine and the best snap.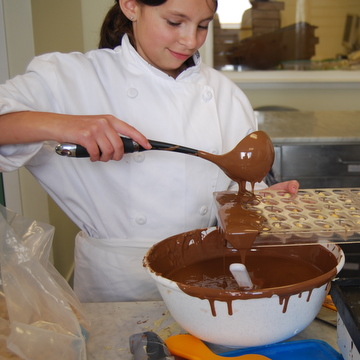 Moulds were filled.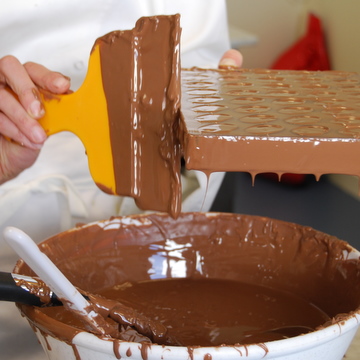 Mess was made.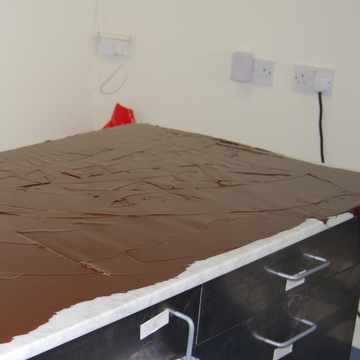 Tables were covered.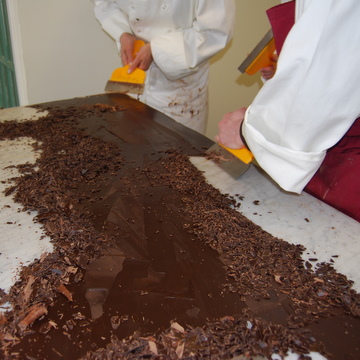 And then scrapped to make chocolate flakes for drinking chocolate.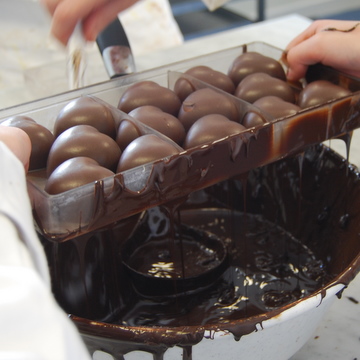 Chocolate cases were filled.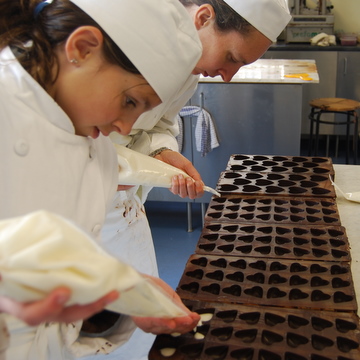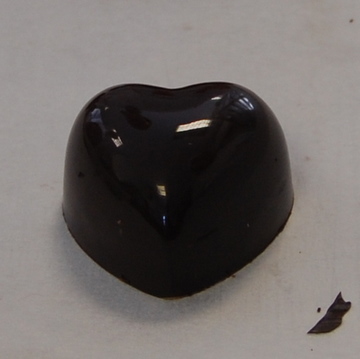 Glistening chocolate hearts turned out...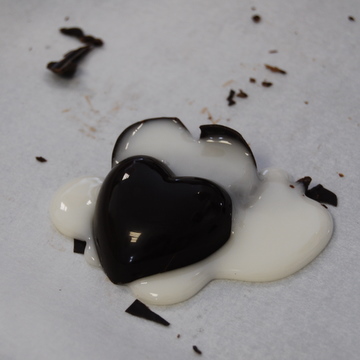 ...some more successfully than others.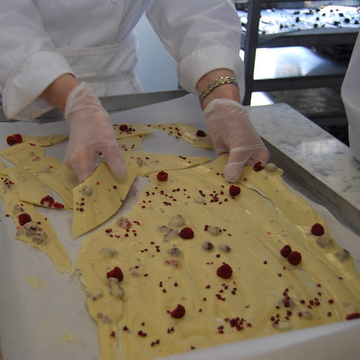 Other flavoured chocolate was snapped to give beautiful artisan-style pieces.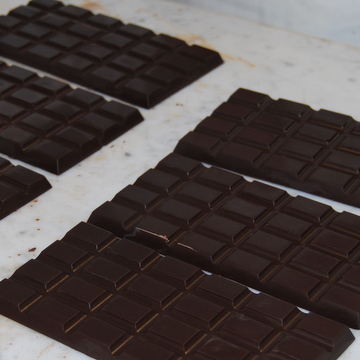 Bars of dark shiny chocolate stacked up on the table like gold bullions.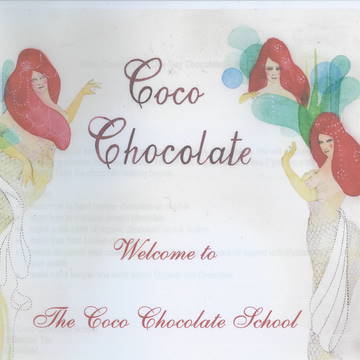 My favourite is the Rose and Black Pepper Chocolate that Coco Chocolate produces. Eaten as a bar or drunk as hot chocolate, it is delicious. 
The day – it was bliss. 
---
27th Apr 2008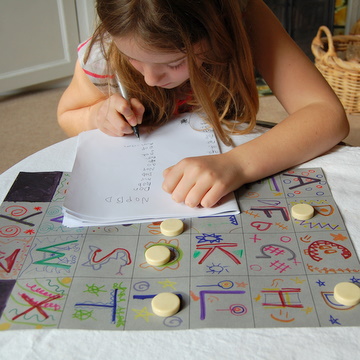 Jane: I've always loved playing word games but have a hard job to get anyone else in the family interested. They'd rather play Apples to Apples (great with lots of people) or current hot favourite 221B Baker Street (a retro Sherlock Holmes mystery-solving board game where the detecting is surprisingly hard). So this weekend I concocted a word game which pretends at first that it isn't a word game because it involves lots of colouring in. I've called it Alphabet Soup and it's really simple for all ages over about five to play.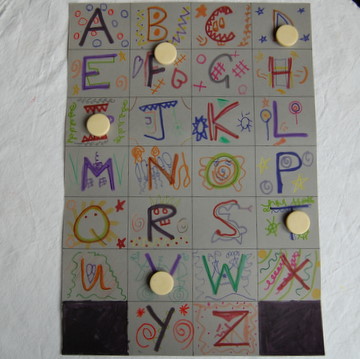 First you draw the letters of the alphabet on a sheet of A3 paper and ask the children to decorate them so they look beautiful. One person then rolls five counters on to the paper to land on different letters (younger children can choose just three letters to make it easier). Everyone writes down these letters at the top of a piece of blank paper. The person who rolled then chooses two extra vowels which are added to the list, to give seven letters in total. The idea is for everyone to make as many three-, four-, five-, six- and seven-letter words as they can from these letters. You can put a 10-minute time limit on it, or just wait until everyone has finished playing – it doesn't usually take long.
Some letter mixes are so tricky you can hardly make any words, while with others you'll have columns of three- and four-letter words piling up. It's good fun and great for learning how to spell those tricky 'don't sound-like' words – for example we discovered that 'jem' is spelt 'gem' and that although 'more' is 'more' there is also another kind of 'maw' as well...
---
23rd Apr 2008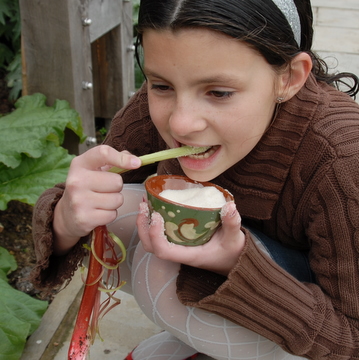 Tamsin: In the corner of my parent's garden, right in front of the bonfire pile, was the rhubarb patch. As a child I remember the enormous waxy leaves and red stems made me imagine it as an exotic jungle plant, and with the knowledge that the leaves were poisonous, I treated it with respect as I played around it.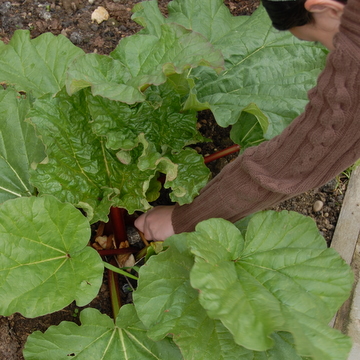 Other plants were stripped of their leaves and petals to make magic potions, perfumes and dollies' tea parties. The rhubarb was never touched for play except for the serious business of sugared rhubarb sticks. The reddest, thinnest sticks were the best and once grasped tightly would be crisply snapped off with a quick flick of the wrist.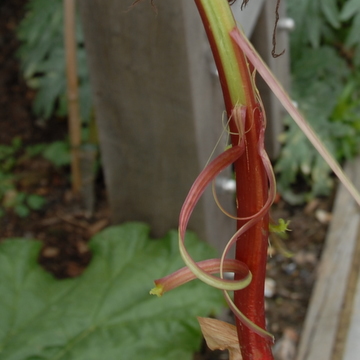 The leaves were discarded onto the bonfire and then the ritual of gradually peeling back the thin skin began. This part of the preparation gave great pleasure.  I would challenge myself to peel off as large a strip as possible in one go and enjoyed seeing the beautiful spirals that formed as the strips fell on the grass. Once the stick was green and naked it was ready to be dipped into a deep bowl of sugar and crunched between the teeth to give all the flavour of spring in one bite.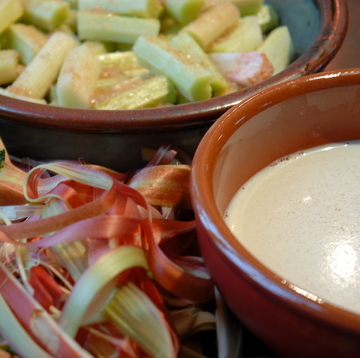 This childhood experience gave me a deep love for rhubarb, especially when accompanied by
junket
or hidden under a
crispy crumbly crust
.
---
22nd Apr 2008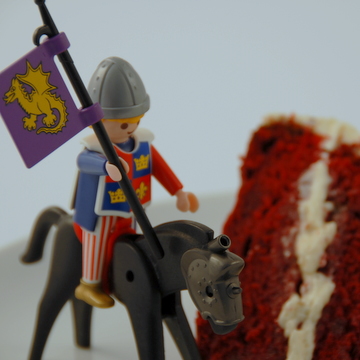 Jane: It's St George's Day today and duh! I only realised when I heard it mentioned on the radio this morning. In England, we've always been a bit low-key about celebrating our patron saint's day compared to Wales (St David's day, 1st March), Scotland (St Andrew's day, 30th November) and Ireland (St Patrick's day, 17th March, when even the rivers turn green…). But this year things are different – the red and white flag is flying over 10 Downing Street and the whole nation seems to be celebrating. So I thought I'd dash off a quick red and white cake in honour of St George and his Dragon.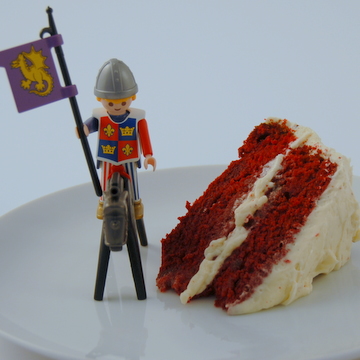 I remembered the red, white and blue confections they make in the US for Independence Day and thought that a
red buttermilk sponge
with a thick white creamy icing would be just the thing. The icing for this cake is unusual – you make a milk and flour roux and add it to the buttercream – but it tastes, as Tamsin said, 'yummily synthetic'. On top, decorate it with a red criss cross for St George's flag, or a toy knight and dragon!
PS: St George isn't really terribly English – he was probably a Roman soldier who was martyred in Palestine in the 4th century for his Christian beliefs – and during the middle ages his story became linked with a legend about a soldier who slayed a 'dragon' in Libya. Still, he's ours...
---
19th Apr 2008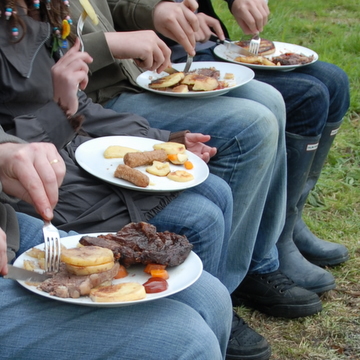 What can you do when the weather is as cold as it was this weekend and you want to go outside? Joe decided the answer was to have a bonfire, and my husband reluctantly agreed with the proviso that if Joe started it, he'd have to tend it for as long as needed, as the wind was quite strong. With the ground rules agreed, the wellies were pulled on, matches placed in pockets and forks collected from the shed. I left them contentedly piling up branches and went to do the shopping.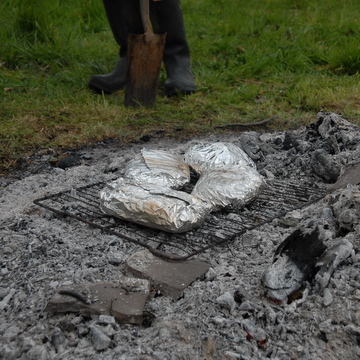 On my return, I was told that supper was sorted. The bonfire had provided enough hot ash to hopefully cook some foil parcels Mike had wrapped up. These contained parboiled potatoes, steak fillets and carrots. For Carla who is a vegetarian he had wrapped up veggie sausages.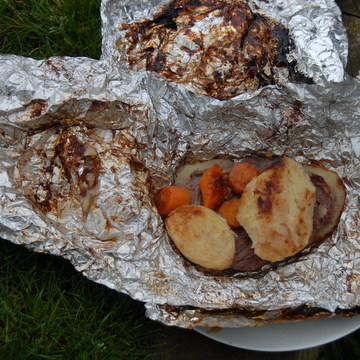 We were a bit unsure as to how long it would take everything to cook so we erred on the side of caution and left the parcels in the fire for about an hour and a half.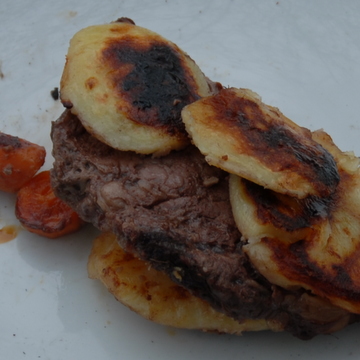 A meal prepared outside should be eaten outside and luckily the ashes were hot enough to keep us warm as we ate what turned out to be a delicious meal.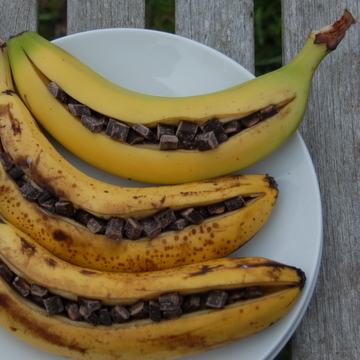 For afters, we split some bananas and filled them with dark chocolate before placing them on the grill. I was unsure whether to wrap them in tin foil but remembered reading somewhere that you don't necessarily have to do this if you leave the bananas unpeeled. The chocolate eventually melted but took about 20 minutes and I feel that if wrapped the cooking time would have been a lot quicker. The pudding was appreciated so much that I didn't even have time to take a 'plated' photo - by the time I had grabbed my camera only the skins  remained.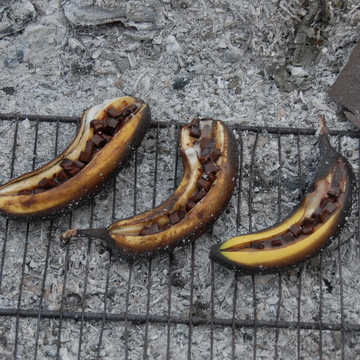 It isn't always easy to have a bonfire nowadays in towns and cities but there are plenty of alternatives from BBQs to outdoor fires, and I would highly recommend playing with fire to cheer you up on a cold, miserable day.

---
16th Apr 2008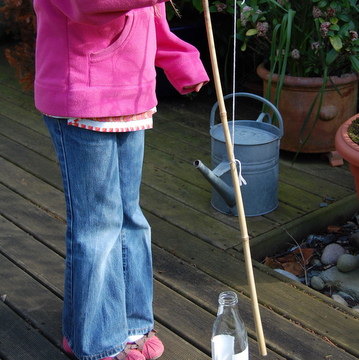 Jane: Today Edie and I braved the bright blue chill of outdoors to play a game called Stick & Bottle. The game came from a 1960s' party book and looked easy, we thought, until we started playing it. It was a gusty day, which I wouldn't mention except when you're trying to ease a long stick hanging from a string into the narrow neck of a glass bottle, every little whimper of wind can send you askew.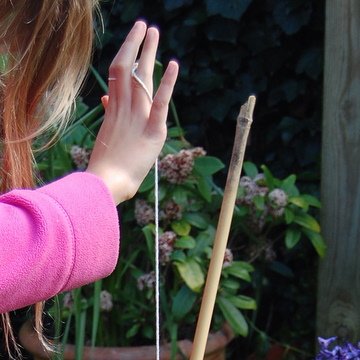 We choose an elderflower cordial bottle with a wide neck (rather than a narrow milk bottle) to maximise our chances, and dug out a piece of old bamboo garden cane from the shed. The idea is to tie the string exactly in the middle of the cane, so it doesn't naturally tilt down at one end. I tied Edie's index finger tightly on to the other end of the string, then checked my watch and timed how long she took to get the rod into the bottle.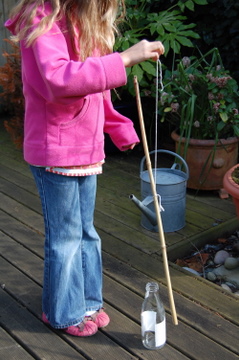 The first go was tricky. The cane was wobbling all over the place and intense concentration and steady arms were needed to hold and tilt it in. The wind didn't help: every time she was about to tip the end over, a gust blew and she let out a frustrated shriek. Time: 2 mins 24 secs.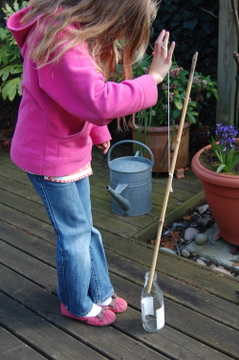 By the second go, she'd got the hang of it. There's a method: you walk over, let the rod swing round for a few seconds above the bottle until you've got your eye in, then quickly drop the end in. You might need a couple of goes, as she did here. Time: 25 secs.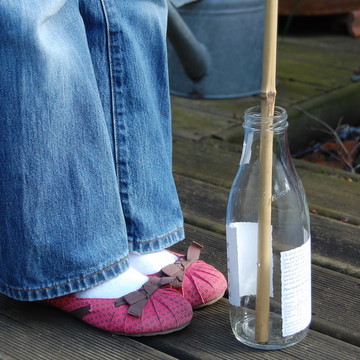 By the third go, with a lot of luck and very little wind, it was down to 7 secs. Now that's what you call speedy, Edie.
---
12th Apr 2008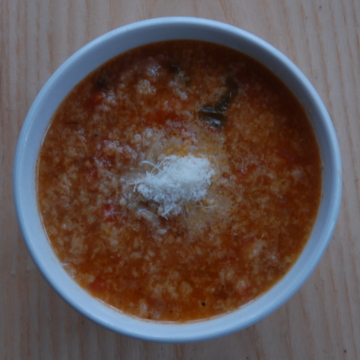 Tamsin: Jane donated one of her jars of chicken stock to me on Friday which gave me the chance to try out a recipe which calls for nothing but the finest ingredients. Pappa Al Pomodoro is one of those simple Italian dishes which puts you back in touch with the ingredients that you are transforming. It begins with the fresh tomatoes which need to be peeled. My heart always sinks when I read a recipe with this requirement in it but, once I get down to actually peeling them, I realise how easy it is and what a pleasure it can be. 
The skins slip off between your fingers so easily and you are left with beautiful pink/red velvety spheres, which are so much more alluring than when coated.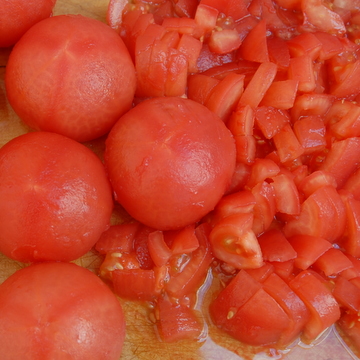 Once chopped they are added to the leek mix together with the basil leaves which should be torn to pieces to perfume your fingers and release that smell of summer.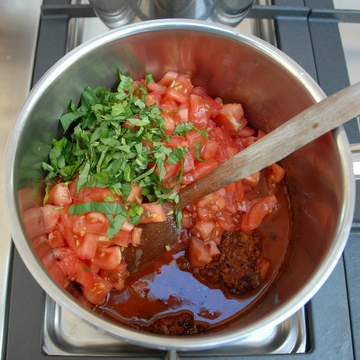 Finally, the breadcrumbs are mixed in. It is worth spending time crumbling it between your fingers to achieve fairly coarse breadcrumbs and finish off the sensory cooking experience.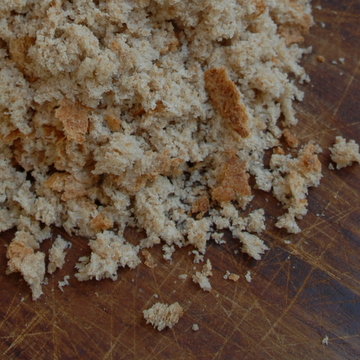 The resulting dish is a thick soup which has a comforting texture and is a meal in itself. Serve for lunch or light supper with plenty of fresh Parmesan.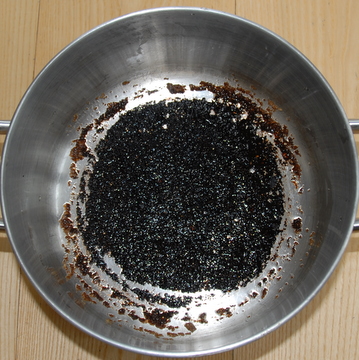 Postnote. One final note of caution. Do set the timer. It takes an hour to cook, which is plenty of time to go off and do something else. Sadly, I have reached the age when 'out of sight out of mind' is reality - with this result.  Luckily, not all was lost and the vast majority of the saucepan's contents were saved, making the preparation time well worth it.

---
10th Apr 2008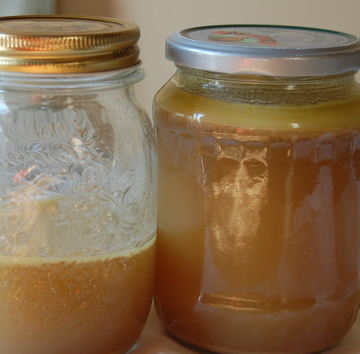 Mal: I discovered the wonderful powers of chicken stock in the early 1980s when doing some work at the house of the mother of a good friend. Gorgeous Dolly Frankel, as anyone will tell you, always has food cooking or cooling in her kitchen – delicious gefilte fishballs, sumptuous roast chicken and, if you're really lucky, a chicken soup with kneidels. Because she's warm, welcoming and ever-generous, Dolly will feed anyone who enters her home. If they're not hungry when they arrive, they leave with food parcels.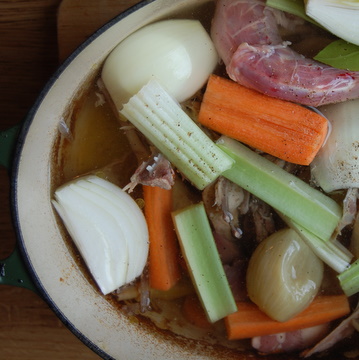 I vividly recall the smell of the soup welcoming me the first time I walked through her kitchen door (I never saw anyone use the front door in Dolly's house). When suffering a bad cold one week a few months after working at her house, Dolly had some soup and stock delivered to me with instructions to take both, and get well. It worked. She gave Jane some extra-strong, recuperative stock-cum-broth after Maudie's birth which completely did the trick.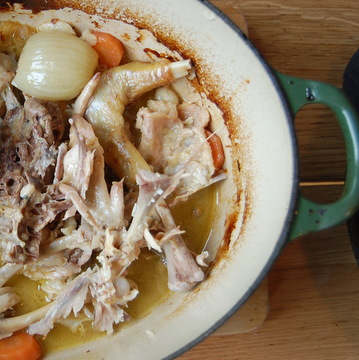 She taught me that you don't need to waste a single bit of a roast chicken, that it is all good (and her daughter, Jennifer, taught me where the chicken 'oyster' is to be found). So I started making stock with my roast chicken carcasses every week or so. The following
'recipe'
I fudged partly from Dolly, and partly from experience of making stock. (And yes, the smell pervades the house, but it's such a fabulous smell.)
Jane: the deliciousness of the aroma of boiling bones that filters through the house is matter of taste (I count my blessings it's not fish bones bubbling - that only happens about once a year). Still, I love Mal's stock which we always have stacked in the freezer. I use it on a thrice-weekly basis for
soups
, risottos, in spag bog or simply mixed with honey to baste oven-cooked chicken thighs. It's such a flavour intensifier - everything just tastes better.
---
6th Apr 2008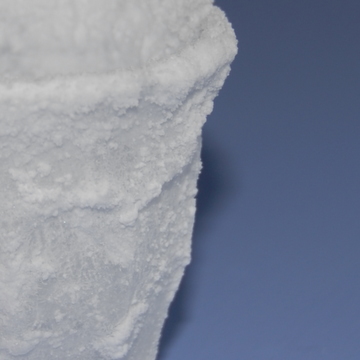 Tamsin: Salt has always been used as a protection against witches and was one of the substances that were placed in 'witch bottles'. These were long, thin bottles that once filled, offered protection against evil spirits. They were then buried in the garden or placed near windows and chimneys, the weak points of the home where witches could easily slip through. Salt was one of many items that could be placed in the bottles to give protection, including iron nails, thorns, threads, hair and urine.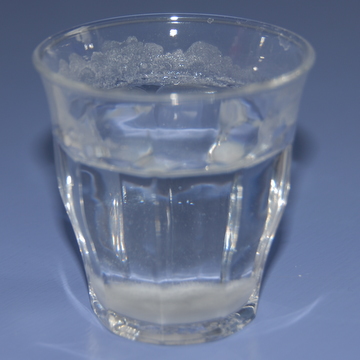 For me, I always use salt to protect the family from eye infections. The minute anyone complains of a tingly sensation in the eye or the first signs of conjunctivitis appear, I boil a kettle, make up a saline solution, leave it to cool and then repeatedly bathe the eye with it. This is how I came to leave a glass full of salt water and then forget about it in our bathroom for several days.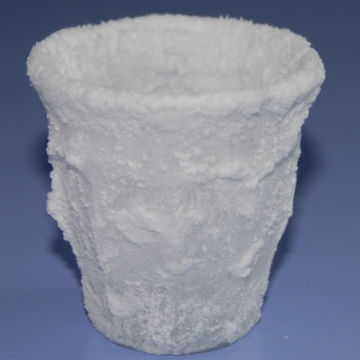 By the time I did notice it the glass was beginning to be covered in tiny salt crystals. Excited by my unexpected science experiment, I decided to leave it to see what would happen. As the days progressed so did my crystal glass until after two weeks it was completely covered. Was this due to the humid environment of the bathroom? Could the same thing happen elsewhere in the house? How much salt had I added to the water?  The questioning scientist in me began to take hold, although I have yet to find out any of the answers. So the next time someone's eye starts to tingle, don't be too quick to clean up afterwards – start your own crystal experiment instead.

---
3rd Apr 2008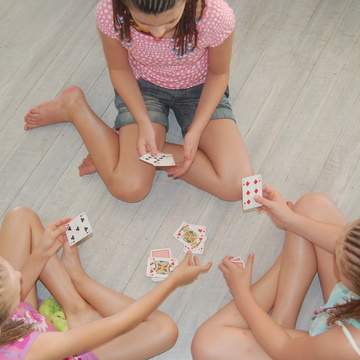 Jane: the children have become addicted to a new card game. Well, two actually. The first is rummy, the second is a very engaging game called Oh Hell! which we've renamed Darn 'n' Dash because everything can go wrong in an instant and when that happens I always shout 'darn and dash' very loudly and it caught on.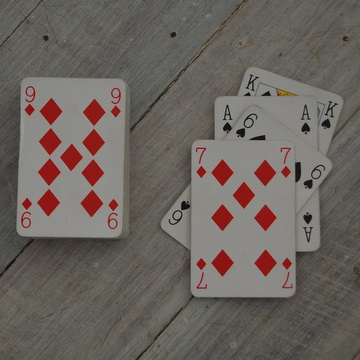 It's a good game for everyone in the family to play, over the age of about eight. It's basically like whist – you win tricks and there are different trumps each round – but you have to guess beforehand how many tricks you'll win per hand, and only score points if you get it right. That can be surprisingly tricky and means you have to learn how to lose hands as well as win them, which can be quite a challenge. The excitement builds in every round because everyone starts with a single card in the first round, then gets two in the second, three in the third and so on until you get a full hand of 10 or more cards (depending how many people are playing). At the end you tot up your scores (which makes this good for maths too) and the person who has the highest wins.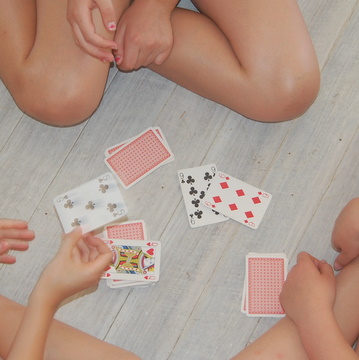 It's been great playing it but even better watching the kids sitting on the floor in a circle several times a day, shouting and laughing excitedly as the hands go down and they win or lose – and losing hands can bring as big a shout as winning, while winning can bring a disappointment if it means going over the estimated number of successes. You never know if a 'darn' or 'dash' is for a winning or losing hand…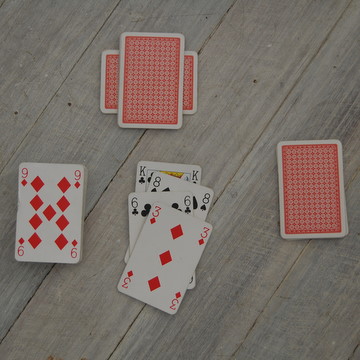 ---