28th Nov 2008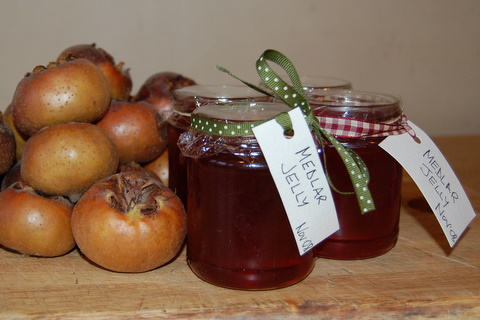 Jane: My neighbour has a rarity in his front garden – an exquisitely shaped medlar tree which produces prolific late-ripening winter fruit. You just shake its leaf-bare branches and a profusion of hard, yellowy-brown, inedible fruits hits you on the head. Inedible at least until they are made into jelly, cheese or 'bletted' – stored until they go brown and soft, internally fermenting (they look as if they are rotting) until the flesh turns to a fragrant, slightly cloying-tasting pulp. Given this, you can understand why medlars are not popular today, but they were considered a delicacy in Victorian times, the bletted fruit scooped out and eaten raw with cream and sugar as a winter pudding.
The fragrant tartness of medlar jelly, however, is extremely good eaten with poultry or game.
Jane Grigson
does a very straightforward recipe: cut up your medlars, cover with water and simmer until the fruit turns to a pulp. Strain for a few hours over a jelly bag (don't squeeze if you want a clear jelly), add 500g sugar for each pint (600ml) of medlar juice, boil, then pot once setting point is reached.
I used a jam thermometer and potted at the setting point of 105 degrees C – a big mistake, as once cool, the medlar jelly was still liquid. So I boiled it again to slightly above setting point: again the jelly was too runny. The third time, I added the juice of a lemon, thinking it might improve the set, and boiled, this time doing the saucer test (putting a teaspoonful of boiling jelly on a cold saucer – if the jelly is ready, the surface wrinkles when you push a finger over it) which I normally can't be bothered with. Finally, the jelly wrinkled in the saucer at over 106 degrees C – it was done.
Given three boilings, you could play squash with a ball of this medlar jelly but, even though the texture is rubbery, the taste is still flavoursome. I had some last night with roast chicken.
---
24th Nov 2008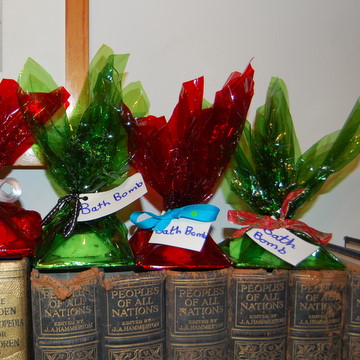 Jane: I've just finished a couple of months' whopping workload and lifted my head to see…snow! A few flakes anyway, fluttering down yesterday, and more on the way according to the weather people. So we decided to spend the freezing weekend inside, lighting a big log fire, doing Stir-up Sunday pud-making and thinking of new present ideas to make for Christmas. One of them was Bath Bombs, inspired by the belief that at Christmastime you can't go wrong with a bit of pampering and a lot of fizz.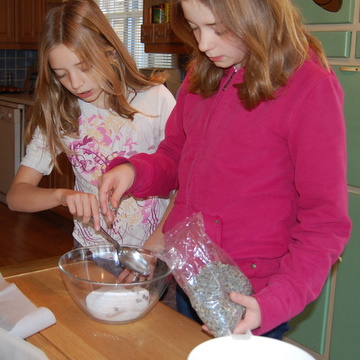 The bombs are quick and easy to make – though take 12 hours to dry – and look very seasonal made in the shapes of Christmas trees and hearts, then wrapped in cellophane and ribbons. They're exciting to use too: when you drop one in your bath it fizzes and twirls like a Catherine wheel, releasing its skin-soothing oils and fragrance for a good soak.
All you need are a couple of packets of citric acid (from chemists), bicarbonate of soda and vegetable oil (we used sunflower but almond and olive are lovely on the skin). We added some dried lavender flowers (or you can use any fragrant essential oil you like) and a bit of colouring too.
In a dry glass bowl, measure out 1 part citric acid to 2 parts bicarbonate of soda. Stir gently but thoroughly with a metal spoon – the mix is quite potent and can make you sneeze so stand back while stirring.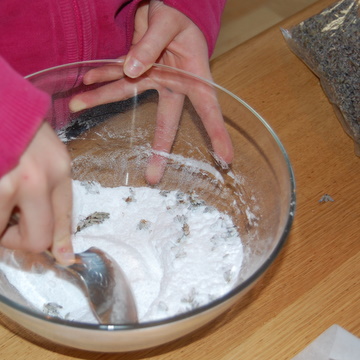 We added in the lavender flowers next, stripped from their stalks, or stir in a few drops of essential oil if using.
Then add in half teaspoonfuls of oil one at a time, stirring really well, until you get a clumpy but not wet mixture. You can also add a few drops of colouring here – we used green food colouring but be careful not to put in too much as the mixture can start fizzing, which you want to avoid at all costs.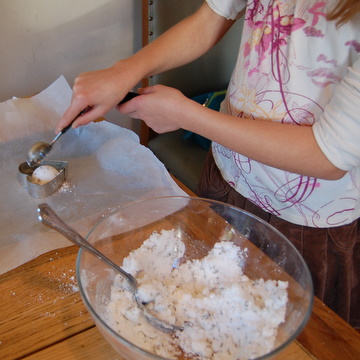 Then spoon the bomb mixture into seasonal cookie cutter shapes, placed on a baking tray covered with greaseproof paper. Press the mixture down hard, then leave overnight to dry.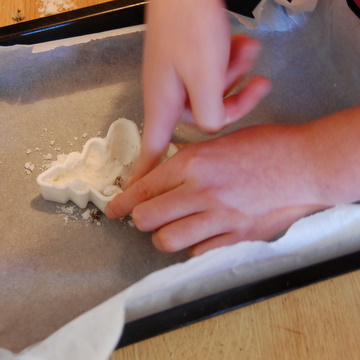 Next day, push the bombs carefully out of the moulds. Lay them on a small piece of cardboard covered with silver foil or wrapping paper, then fold over a cellophane sheet and tie with ribbon and a label.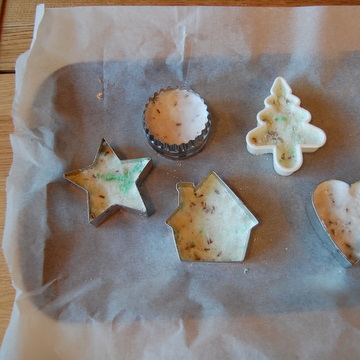 ---
12th Nov 2008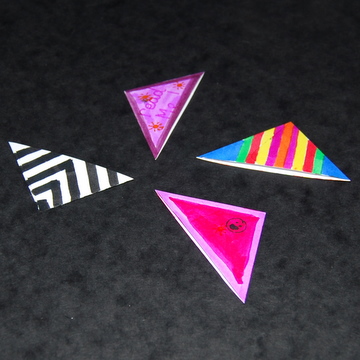 Tamsin: Christmas is going to be austere and early this year. Not because of the credit crunch but because we are putting on a special exhibition at the museum I work in about 'Christmas on the Home Front'.  We are making Christmas puddings using potatoes and carrots, marzipan from soya flour, party hats from newspaper, rag rugging a union jack, and presents from scraps. One of the present ideas were these bookmarks.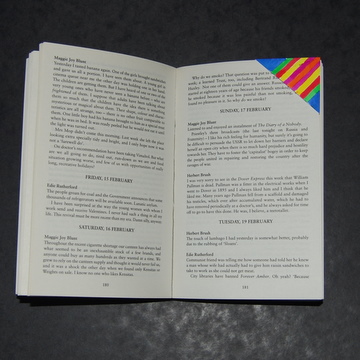 They are made from the corners of envelopes that have been cut off and coloured in.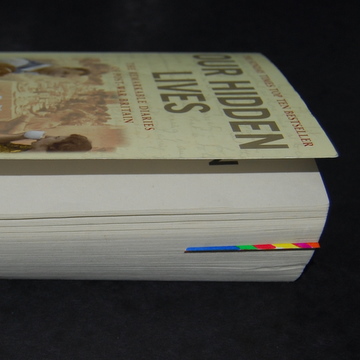 Once made, they fit snugly over the corner of the page, marking your place and progress through your reading book.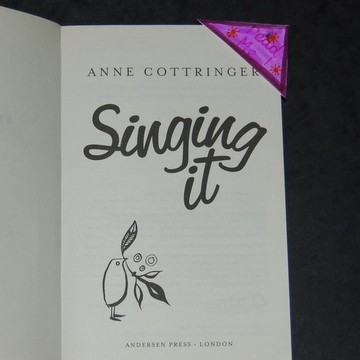 They are easy to send, being as light as, well, the corner of an envelope.  If you really want to be economical, draw them on the envelope you are sending the card in with instructions on how to cut them out and use inside.
---
2nd Nov 2008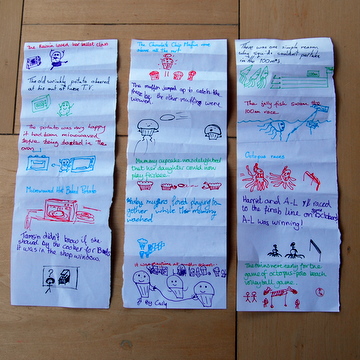 Tamsin: We were in Cornwall for half-term where the weather varied from balmy autumn days to freezing winter hail. Luckily, with the help of wetsuits and a new-found game we did not mind what the weather threw at us. Our friends taught us 'Paper Telephones' and we were soon hooked. All you need are paper, pens and the ability to fold. Each person is given a piece of paper and the game proceeds very much like 'Heads, Bodies and Legs' except that you start off writing a silly sentence at the top of the page.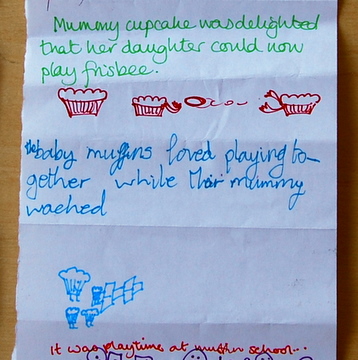 The papers are then passed to the next person who draws a picture that describes the sentence. They then fold over the paper so only the picture is showing and pass it on to the next person who tries to translate the picture back into a sentence, folding once again to hide the picture. 
This carries on – sentence, picture – with the papers moving round each time until you get to the bottom of the paper. The papers are then unfolded and some fairly hilarious transformations have taken place.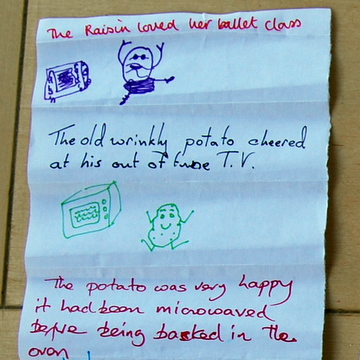 I rather liked the dancing potato.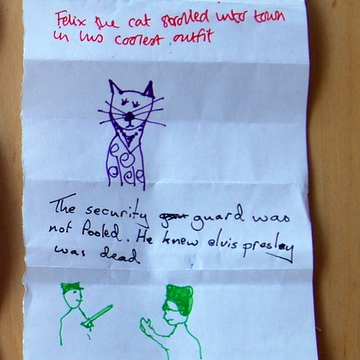 Or the Elvis cat.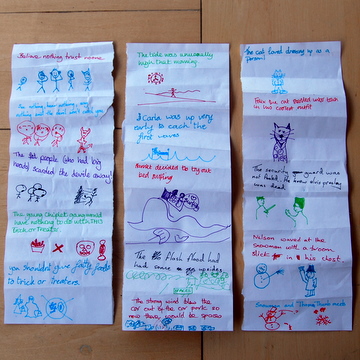 This is definitely a game I am going to bring out when we have all the family down for Christmas. It suits many different age groups and is very inclusive – even for those who feel that their drawing skills are not high, stick men are great.
---