25th Feb 2009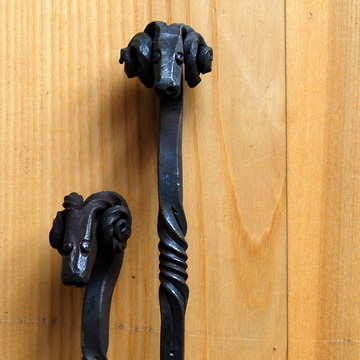 Tamsin: What do you give someone who asks for a forge for a present? This was what Joe decided he would like when asked what he wanted for Christmas. I felt this was a non-starter but then decided t I had to think creatively round it and began to look into blacksmithing. I was not expecting, due to the paranoia around health and safety nowadays, to find someone who would take on a 14-year-old so was much surprised when after only one phone call, I had booked not only my son but also my husband on a three day 'Starting Blacksmithing' course.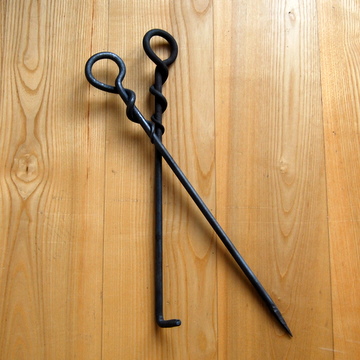 The course was to be held in February and it turned out to be a rather snowy and freezing weekend. This was most noticeable in the morning when first entering the workshop to find the buckets of water frozen over and Jack Frost on the windowpanes. Luckily, blacksmithing requires fires and plenty of physically demanding work so Joe and Mike soon warmed up. They slogged all day to make items which took them six hours to produce but would probably have taken their teacher 15 minutes.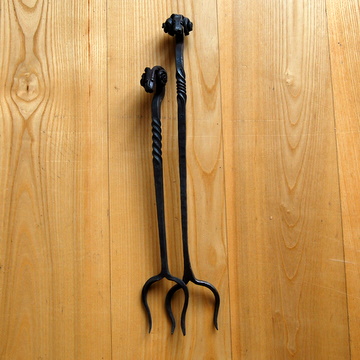 I was amazed by the standard of work they produced as absolute novices – far more intricate and dainty than I had expected. Each day a different item was fashioned so we are now a household with two pokers, two toasting forks and two plant hangers. It was lovely to see my 'boys' returning home with blackened faces, aching muscles, and dry, raw hands but brimming over with pride and contentment at their day's work.
They are now talking about the next course (where you make all the tools you need to do the blacksmithing) but only on the proviso that it takes place when the air temperature is above freezing.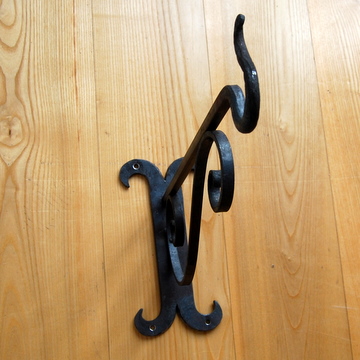 ---
21st Feb 2009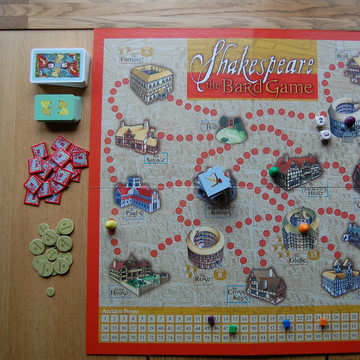 Maudie: This was a Christmas present to me from my dad. He knows I am interested in English and Drama, and we have been to see many Shakespeare plays. This game is good fun: you get to put on plays and buy your actors, and move around the board as if you were in the streets of London. There's even St Paul's Cathedral and the Globe Theatre on it. Before you play, you get given a Shakespeare script like 'Romeo and Juliet' or 'Othello' and 40 shillings. On the script card, there's a list of actors, props (blue circles with swords on it) and patron tiles you need to collect to put on the play.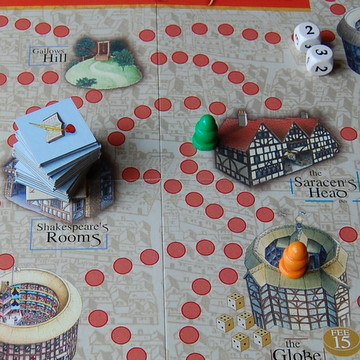 There are fate cards which are sometimes good, sometimes bad. (You get one when you roll an 'F' on the dice.) It could say something like this: Thiefs and scoundrels! Lose a prop' or 'King James I is impressed with your work - you present a command performance, gain 20 shillings'. At the start you get given 40 shillings. You can lose it, spend it and earn more money by busking or acting out a speech from a play (they are written down on cards for you). The people who are playing with you can vote on your acting abilities – if they give you seven out of ten, then you get seven shillings. Another way to get money is to answer a question about one of Shakespeare's plays. The questions vary from easy to hard. Here's an example of an easy one: 'In which of the following plays are two female characters killed by their husbands?' They give you three options, and you choose one. (The answer is Othello.)

The things I really enjoyed about this game was saying the speeches for money. My favourite was reciting one of Puck's speeches from Midsummer Night's Dream. I got nine shillings for that one! I would definitely recommend the Bard Game - even if it does take 60 minutes to complete…
---
13th Feb 2009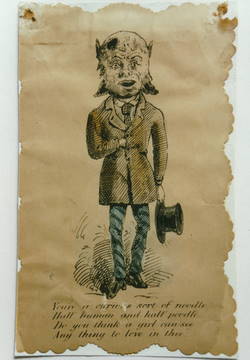 Tamsin: When we think of Valentine cards the images that come to mind are pinks, reds, hearts, lace and sentimental verses. Well, this has not always been the case. In Victorian times you may have been sent 'Long' or 'Rough' Valentine cards whose sentiments were rather different.  The verses speak for themselves:
You're a curious sort of noodle
Half human and half poodle.
Do you think a girl can see
Any thing to love in thee

To a fat old croaker who is never well:
Your health is always trailing
Your heart always failing
You're going into a consumption quite
The consumption of gin both day and night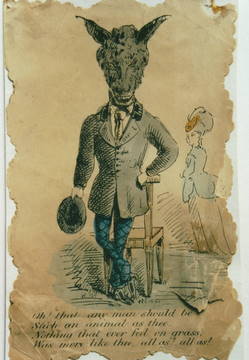 Oh! that any man should be
Such an animal as thee.
Nothing that ever fed on grass,
Was more like thee, - all as! - all as!
In the past cards were sometimes sent between women friends but not many were sent from women to men.
All photos are the copyright of the Cambridge & County Folk Museum.
---
9th Feb 2009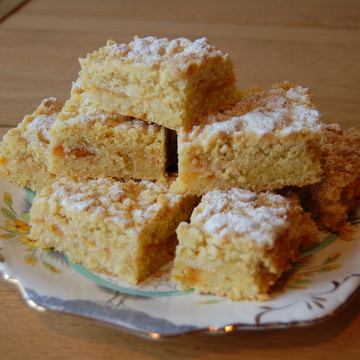 Jane: This is the time of year for lovely comfort puds like crumbles and roly polys and here's a fantastically stodgy teatime equivalent beloved of all members of our family. It's a heavyweight buttery shortbread with a sweet and fruity layer that makes you think spring might be on the distant horizon. It's also good to make as a traybake for school dos as both children and adults like it a lot, and you can make 24 or so slices in one batch. 
500g unsalted butter, at room temperature 
4 large egg yolks 
200g caster sugar 
450g self-raising flour 
50g polenta 
Pinch of salt 
400-500g apricot compote (I use Bonne Maman's big pots – the rhubarb is delicious too – but you can make your own with whatever fruit is to hand)
Icing sugar for dusting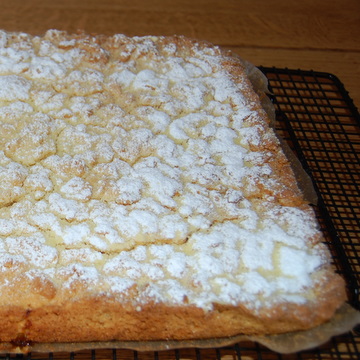 In a large bowl, beat the butter until pale and soft. Add the egg yolks and sugar, and beat well until light and creamy. Add the flour, polenta and salt and stir in with a metal spoon or on the lowest speed of your electric mixer. The mixture will be very thick – almost too thick to stir. Divide into two batches, wrap in cling-film and chill in the fridge for half an hour or so. 
Meanwhile, line a 30 by 23 by 4cm baking tray with baking parchment. Take one batch of dough from the fridge, and grate the mixture straight into the tin, using the largest holes on your grater – it will come out like fat worms. Press lightly down into the corners and to make sure the layer is level. Spoon over the apricot compote evenly. 
Then take the other batch of dough from the fridge, and grate it evenly as before over the apricot layer. This time don't pat the dough down – it looks better if the top surface is a little crumbly and uneven. 
Bake at 175 degrees C/Gas Mark 4 for about 40 minutes or until the shortbread has taken on a golden colour. As soon as it comes out of the oven, dust heavily with icing sugar. Cool on a rack, then cut into squares or slices.
---
5th Feb 2009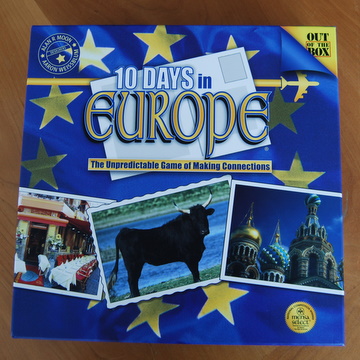 Tamsin: We have travelled around Europe quite a few times since Christmas thanks to a game we were given – 10 Days in Europe. When opening the present, my initial reaction was that it was going to be a 'worthy' game with a certain educational aspect to it. Although we did learn a lot, once we'd played, it we also decided that you should not judge a game by its packaging – it was much more fun than we anticipated.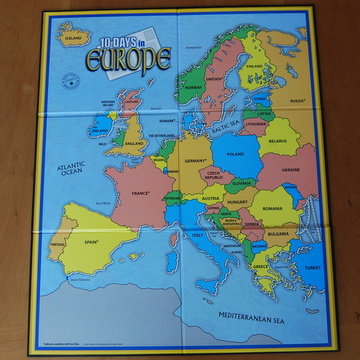 It is a game that fits nicely into an after-dinner slot because little energy is required to dash around Europe connecting country to country. The only effort you have to make is that of organising your journey's itinerary, which is not as easy as you'd think because you will always have the wrong planes or boats and walking is just not an option. 
As you begin to rectify the situation you also get a chance to find out about those 'new' countries which were covered over by the USSR when I was at school and endlessly colouring in maps. There are many other interesting things to notice too as you build up you European trail. For instance, Belarus and Poland are both much bigger than I imagined, Albania is much further south, while Iceland has a tiny population of 301,931.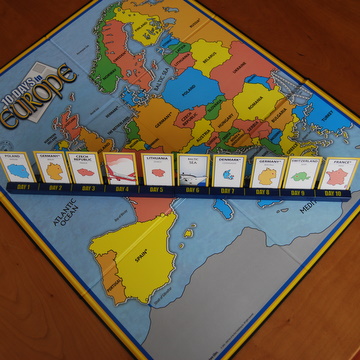 The game can last from between 3 – 20 minutes which is just about right for early evening. But be warned: you can think you've made all your connections and produced a seamless trip. But upon revealing it to the rest of the players, you discover that actually you aren't quite as organised as you thought.
---