29th Mar 2009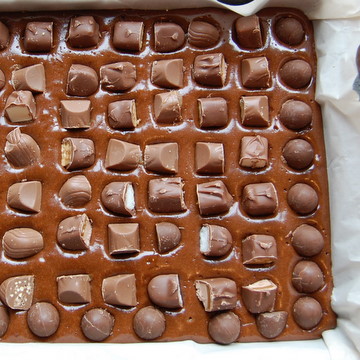 Jane: To make special customised Easter brownies, add some little eggs or chocolates (we used solid chocolate mini eggs and 'Celebrations' chocs) to the recipe. It's easy: make your normal brownie batch, then pour about a third of the mixture into the baking tin, place your eggs or chocolates in rows on top so each brownie will get a whole chocolate in the final cut portion, then pour over the rest of the mixture to cover completely. Cook as normal. Delicious...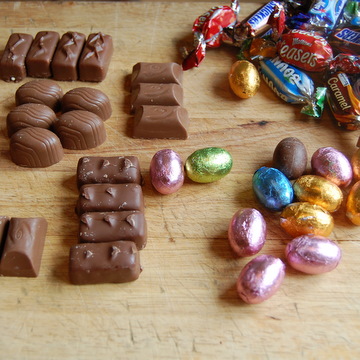 And if you have wagonloads of chocolate around the house, use some up in this Triple Chocolate Brownie recipe, which has big chunks of milk and white chocolate in a rich dark chocolate base.

Triple Chocolate Brownies
Ingredients
400g dark chocolate (70% cocoa solids)
550g unsalted butter
350g self-raising flour
1 tsp baking powder
650g golden caster sugar
8 large eggs, lightly beaten
2 tsp vanilla essence
200g milk chocolate, cut into large chunks
200g white chocolate, cut into large chunks

Method
1 Preheat the oven to 170ºC/325ºF/Gas Mark 3.
2 Line a baking tin approximately 33 x 23 x 5 cm with baking parchment.
3 Put the chocolate and butter in a large bowl, place over a pan of simmering water and allow to melt.
4 Sieve the flour and baking powder into a bowl and set aside.
5 Remove the melted chocolate from the heat and stir in the sugar.
6 Add the beaten eggs and vanilla essence.
7 Fold in the flour, and milk and white chocolate chunks.
8 Pour the chocolate mixture into the prepared baking tin.
9 Place in the oven and bake until the top feels firm, but the inside is still gooey when you insert a skewer. You don't want to overcook, so check after 25 minutes, though it may take up to 35 minutes depending on your oven.
10 Cool in the tin, then remove and cut into squares.
---
23rd Mar 2009
| | |
| --- | --- |
| Cherry Tomatoes and Chocolate | |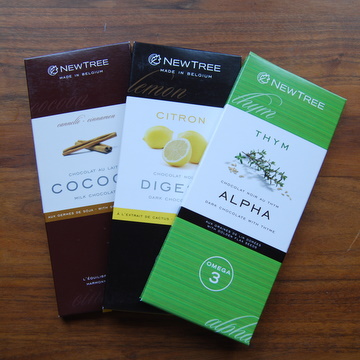 Tamsin: Our PTA is putting on a chocolate evening later this week and I have been busy collecting the necessary chocolate for various tasting stalls. One stall will have a selection of unusually flavoured chocolate bars for people to sample and guess the different flavours.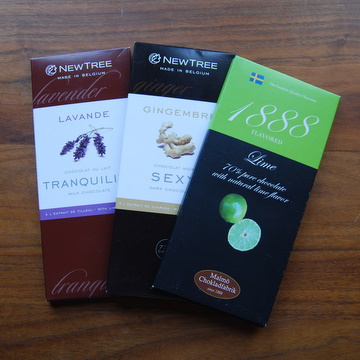 This is where having a husband who travels overseas quite often comes into its own. As a favour for me, and to add a little bit of colour to the usual business trip, he visited many different chocolate shops in several different countries to hunt down exotic flavours. We were surprised to find that the best collection of unusually flavoured chocolate bars came from a small shop in Finland.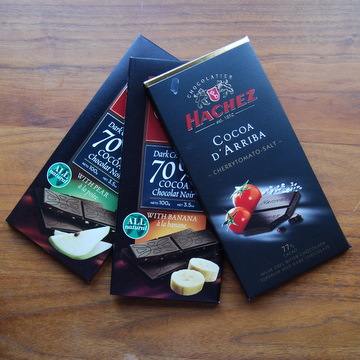 Some flavours I can see would go well with chocolate such as cinnamon, lavender and ginger, but I am not so sure of lemon and lime. Orange and chocolate is a taste made in heaven but lemon could just be a bit too acidic for my tastes. Then there are the flavours, like thyme, that I'd usually use in savoury dishes, but which I can well believe would taste nice in a dark chocolate. Maybe the most unusual was the cherry tomato and sea salt – a dark chocolate with pieces of crystallised tomato hidden in its depths, leaving a surprisingly refreshing after taste.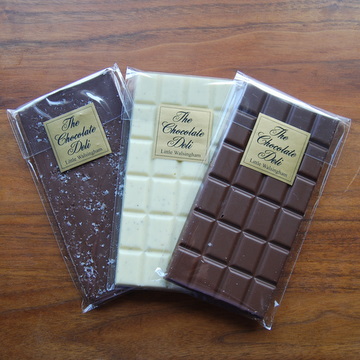 Finally, although not a true 'flavour', I did find a fun ingredient that a small chocolate shop in Little Walsingham, Norfolk added to their  'Popping Chocolate'. Once in the mouth this chocolate fizzled and popped thanks to a sprinkling of 'Space Dust', that nostalgic sweet that when sprinkled on the tongue causing a mini eruption in your mouth. A weird sensation back in my childhood days and one which was even weirder when experienced as an adult in a bite of chocolate.
---
16th Mar 2009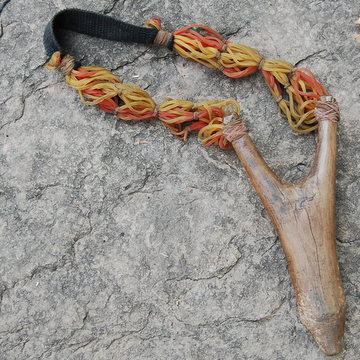 Jane: A couple of weeks ago, I was camping with some other journalists in the Cambodian jungle looking at ancient, beautiful but half-collapsing temples. One of the children who followed us around the temple sites (telling us stories of the history and natural world to make an extra dollar or two) showed me this highly effective catapult he'd built. It's basically a strong bit of branching hardwood which has been whittled to a Y-shape. He cut a bit of camera strap to make the catapult cradle, then attached that to two chain of rubber bands to give it good stretch. Definitely worth trying at home.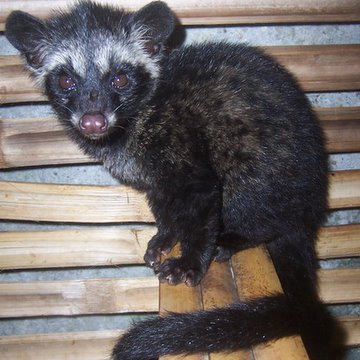 An Asian palm civet cat
Warning: people of a sensitive, animal-loving disposition should probably stop reading this blog now.

That night in the jungle, while we were eating a delicious dinner prepared for us by a team of Cambodian cooks (I should point out that this was a cushy five-star jungle trip in 'luxury' tents), one of the team fired a stone from such a homemade catapult. It hit a cat, well actually an Asian palm civet cat, a gentle, black, shaggy, raccoon-like creature (see above) which eats mostly fruits and insects (including those delicious tarantulas of the blog dated 9th March, see below). The stone broke the cat's leg so it fell from the tree, and was then killed, skinned, cooked and eaten by the Cambodian team for dinner. We observant journalists didn't notice a thing.
Next morning our guide told us about the catapulted cat and, of course, we were horrified (even though we had been eating steak and lamb for supper).
Is there a moral to this story? It certainly brought home what a strange and contradictory attitude we Westerners have to the food we eat. But, more importantly, how hungry many Cambodians are (20% of the population live in 'extreme poverty' according to the World Food Programme) for a bit of free meat.
---
9th Mar 2009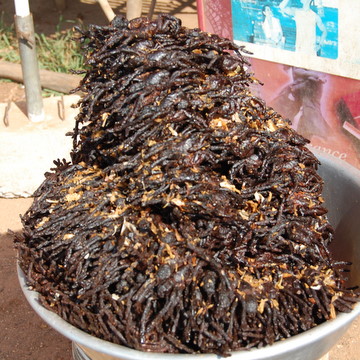 Jane: I'm always keen to try weird and wacky foods, thanks mostly to my dad, who encouraged us to get to grips with snails, liver and frog's legs by the age of about eight. But on a recent trip to Cambodia, the concept of wacky gastronomy hit a new high (or low, depending on the strength of your stomach). To wit, tarantulas. You can see them in the picture above, piled up in a country market stall near the jungle, several hours' drive from the capital city of Phnom Penh. Would you eat these? Thought not. But two of us with more hair than sense decided we must, just must, have a taste to show we've walked on the wild and jungly side and lived to tell the tale. 
Well, let me tell you, spiders taste foul. We took one off the top of the big pile. It was black and shiny, fried in oil. (One man told us they pull out the poison sac and fangs before you eat them which was some comfort, and apparently tarantulas are not really poisonous anyway, they just look it.) We both chewed a leg (not the same one). It was tough and fibrous. With an oily aftertaste. I spat it out and gave up.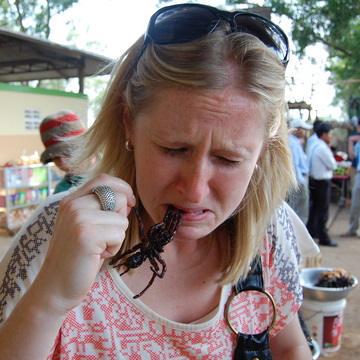 Lizzie munched manfully on.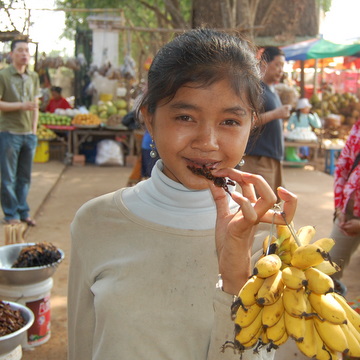 We asked the children if spiders really were a delicacy and they nodded enthusiastically. But when we asked if they wanted one they all said no, except for one brave girl who didn't really look as if she was enjoying it either, especially when she got to the soft yellow bits in the middle. (A few days later we were told the spiders have to be fresh – ie just fried, and eaten with rice. These ones were probably days old. No wonder they tasted a bit off.)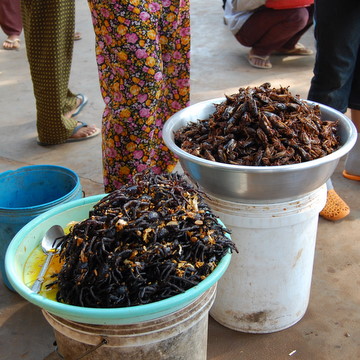 In Cambodia, our guide explained, they eat everything except the table and he wasn't joking. In the next basket were grasshoppers, and we saw big red ants – the stir-fried eggs are considered a special treat.
This 'if it moves, eat it' philosophy is partly a legacy from the days of the Khmer Rouge, when people were starving and would eat anything from tree bark to flying insects to stay alive. Nowadays, people aged 40 and over who lived through the 1975-79 Pol Pot atrocities often have terrible stomach and digestive problems, and one of the things they take for it is spider whisky in which tarantulas (and sometimes ants, for the formic acid) are steeped to make a strong medicinal tincture. Apparently spider whisky is good for bad backs too.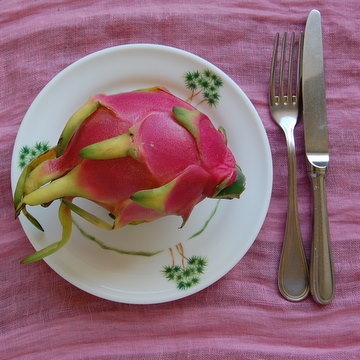 In the end I gave up on insects and turned to the delicious fruit instead. This beauteous pink thing is a dragon fruit.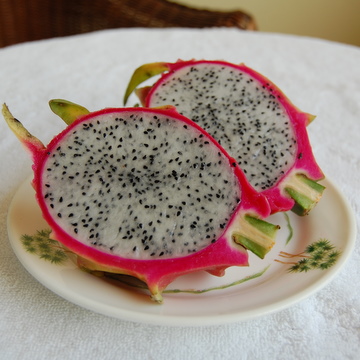 Its insides are white with tiny black seeds, like a well-washed lino floor. Delicious.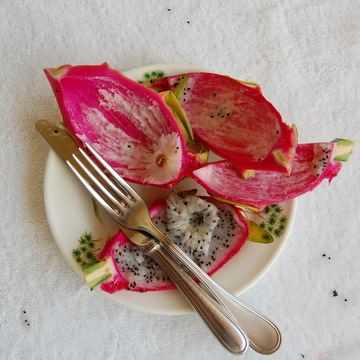 I enjoyed that.
---
6th Mar 2009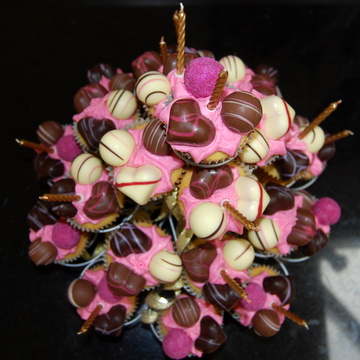 Tamsin: Life has been hectic and most of my spare time has been taken up with sorting out various birthdays and parties so I thought this week's blog could just be a peek at one of the results of my labours. I found a wire cup cake holder at Lakeland and created this for Carla's chocolate birthday party.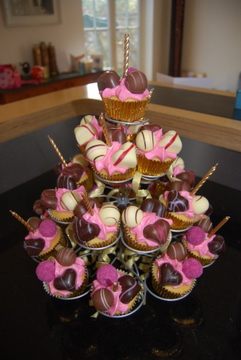 ---