27th Jul 2009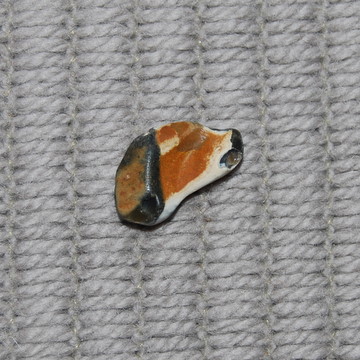 Tamsin: We have just spent the day swimming in the sea and lounging around on our favourite shingle beach. Mike declined the goose pimply swim and instead occupied his time by finding dog stones! Here is the spaniel.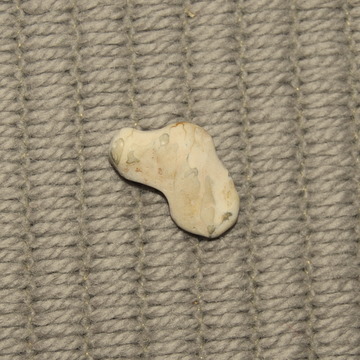 A Labrador.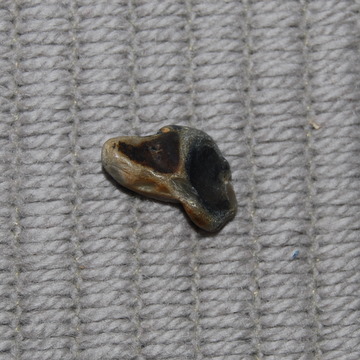 And a terrier.
---
18th Jul 2009
Jane: Mike has just delivered American Girl to us, a fab US mag quite unlike anything we have in this country (in so much as there are no boys/first kisses/fashion/my-best-friend-is-not-talking-to-me teenage traumas). Does that make it sound dull? It's not. It's full of energy, ideas, quizzes, crafts and funny, engaging features and stories. And cooking – this month frozen lollies of the most wacky and wonderful kind. The Peanut Brrrr was a step too American for us but we loved the idea of Flurry Float (frozen grape juice around vanilla ice cream to make a mivvi), Polar Pops – basically frozen Swiss roll on a stick, and Chilly Vanilly – fresh berries in frozen vanilla pudding.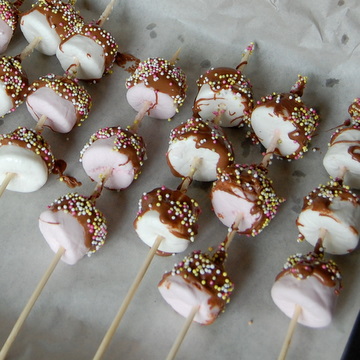 But today we choose to make Marshmallow Snowballs (
see recipe here
), which are super quick and easy. We started after a lazy, late Sunday breakfast, with everyone still in pyjamas, but by the time the Snowballs emerged from the freezer an hour later at 11.30am, to be dipped in chocolate and hundreds and thousands, we were fully dressed and ready to get marshmallow munching…
---
7th Jul 2009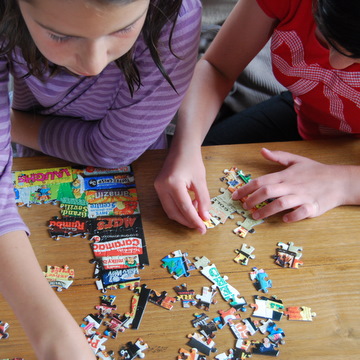 Tamsin: I know the holidays are nearly upon us when I begin to turn my mind to finding a 'holiday' jigsaw. There's nothing I like better than sitting down in an evening and sifting through 1,000 pieces, creating order out of seeming chaos. Finding an enjoyable jigsaw is hard though. The shops are full of sentimental pictures of nostalgic scenes or soppy pets with large eyes staring out at you or even worse a whole page of green sprouts or baked beans. These do nothing for me. What I most enjoy is finding one of a famous painting or a natural history scene with different types of flora and fauna. But my most recent find is a whole series of jigsaws produced by the Museum of Brands in Notting Hill, London.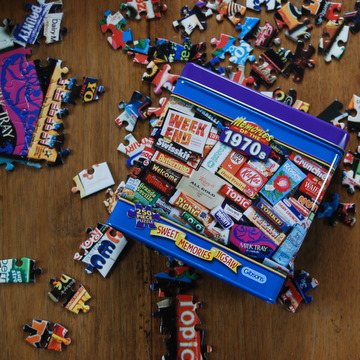 The family's favourites are the 250 piece 'Sweet' jigsaws, small enough to be completed in an evening and each one based on sweets of different decades. We all have our different styles of working when doing jigsaws. I meticulously lay out all the pieces, sorting out the edge ones to join together first. Jane rummages through the pieces in the box, gradually building up her collection of bits to join together. Carla picks a colour or section and works away on it, gradually building outwards until she reaches the edge. I wonder what insights you can get into someone's personality when you give them a jigsaw to complete?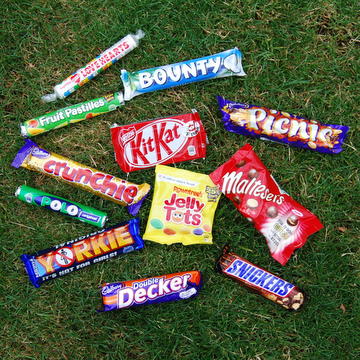 The 'Sweet' jigsaws also come with a list of when the confections were first produced. We had a fun time guessing which ones hit the shops during which decade. I was way out with 'Picnic' which I could have sworn came out when I was a girl. Have a look at this selection of sweets from the corner shop and see if you can guess when they were first seen. Answers in the Comments.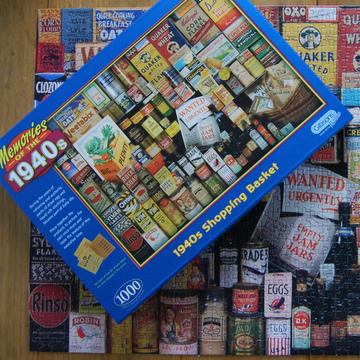 PS. I am still trying to find out when Fruit Pastilles started to grace the shelves. If anyone discovers the date, do let us know.

---