27th Nov 2009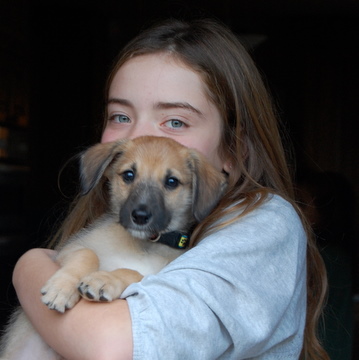 Jane: Just had one of the best birthdays ever, thanks to the arrival of George the puppy! I've wanted a dog for years, in fact Mal and I used to joke about our future wannabe hound 'Lyle the lurcher' (named in honour of singer Lyle Lovett). But it was never the right time. Until now. And George, hurrah!, is a lurcher (basically a sight hound crossed with something else): he's part Saluki-greyhound-lurcher-Collie, so Gawd knows what he'll turn out like.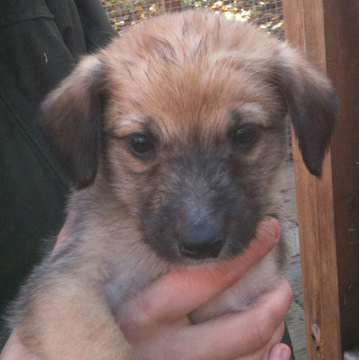 Weirdly, as you can see, he looks more like an Alsatian in terms of colouring and muzzle, so we may have been sold a pup…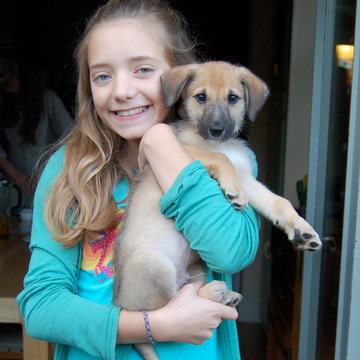 I'm sitting in my office writing this while he is fast asleep in his basket by my feet – sweet! The children think he's fab (happily even taking part in the prolific pooper-scooping) and Maudie and I will be going to training classes in the New Year.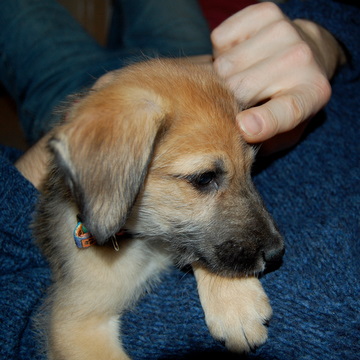 Yep, we're all in love, L-U-V. Long live King George!
---
20th Nov 2009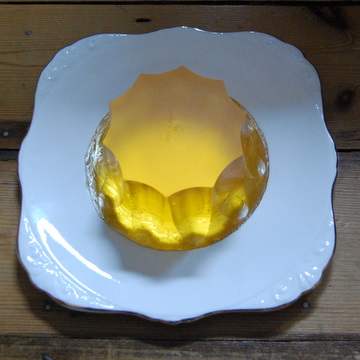 Tamsin: After 3 weeks and one failure I have finally completed my jelly and am feeling rather pleased with myself. There are many weird and wonderful challenges that my job, as a museum education officer, gives me and this was one of them. We are putting on a Dickens' Christmas where the so-called 'father of Christmas' – Charles Dickens – takes centre stage. For one of the exhibitions I am laying the table with the meal that Charles and his wife would have eaten at Christmas. The stumbling block is that I am not allowed to have any real food within the galleries – it all has to be fake. There is much that you can do with salt dough (mince pies, sugared almonds) and newspaper with masking tape (goose, Christmas pudding) but neither of these quite work when you are trying to fake a lemon jelly.
After much thought I came across a product that is used in artificial flower arrangements to imitate the water in the vase. It's a plastic resin that sets rock hard but remains translucent. I ordered a kit but was dismayed to find that it took 21 days to cure and I had a tight deadline.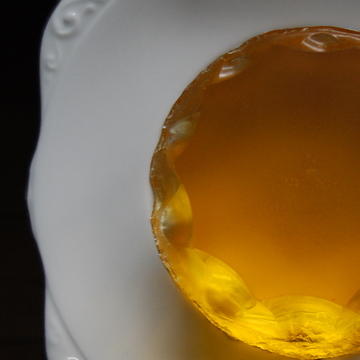 Luck was with me as I read that you could quicken the process by heating the jelly at 60 degrees C for 15 hours – a much better option. Well, it was until I opened the oven door halfway through the allotted time and found a melted mould with a rather misshaped jelly seeping out. It had a genuine melted jelly feel to it but not quite the perfection that was needed for Dickens' festive table. Luck was with me again as I had only used up half the mixture so, putting in a few more drops of yellow ink and rushing down to town to purchase a further jelly mould, I began again. This time patience was needed – I placed the mould on top of a radiator for a few days then put it in a very low oven for a few hours. The excitement was immense as I peeled back the mould to reveal the gemlike object, and even despite the fact that it had the words 'made in China' etched on the top from the mould, pride welled up inside me.
To see my jelly, pop in to the
Cambridge & County Folk Museum,
where the exhibition will run throughout December. But come especially on Saturday 12th December when the whole place will be oozing with Dickensian style, with crafts to make, readings, carols, sweetmeats, games and even the odd humbug, to show you how Charles really liked to spend his Christmas.
---
12th Nov 2009
| | |
| --- | --- |
| Scare a Friend with a Leaf Mouse | |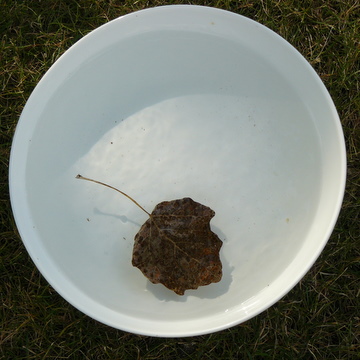 Helen: Last time I wrote on this blog about re-enacting a dead mouse, it was about making a mouse out of chocolate (see 8 January 2008, Making an Effigy of a Dead Mouse in a Mousetrap out of Chocolate-related Materials). Today, I am going to write about how to scare a friend with an impression of a drowned mouse. There is no chocolate involved in this re-enactment. All you need is a leaf and water.
Maudie and Edie played a trick on me by pretending that a wet leaf was not a wet leaf but a drowned mouse with a long fleshy tail. And I believed them! Here is how you can scare someone and convince them of a dead mouse in the house.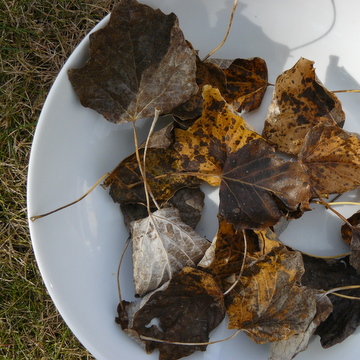 At the moment, there are many leaves falling off trees and floating down to the ground, and for this re-enactment you need to collect some of these leaves. Gather a handful of silver birch leaves selecting the ones which are crunched up and with a long stem, which are speckled brown on one side and silver on the reverse.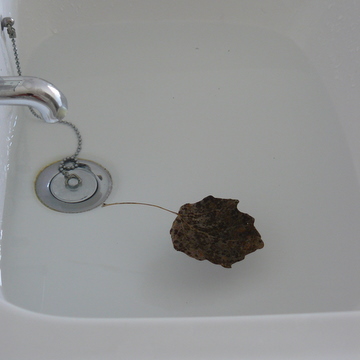 Now, have you ever noticed that the stem of a silver birch tree leaf can look like the tail of a mouse? Well, if not, look again!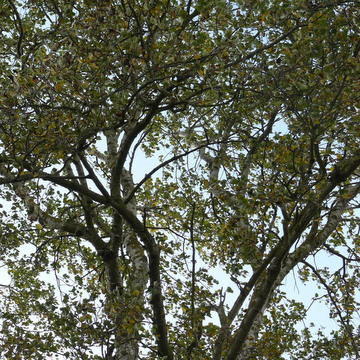 Imagine if you put this wet leaf into a bathroom sink in your house full of water or, best yet, in the toilet at your house? Leave the wet leaf in the watery grave for a while so that it sinks. Then, call to a friend or family member in a panic, saying that there is a drowned mouse in the house. They will run into the room and see what you see once you have suggested that the submerged leaf is not a leaf but a deceased mouse. Have fun!
---
2nd Nov 2009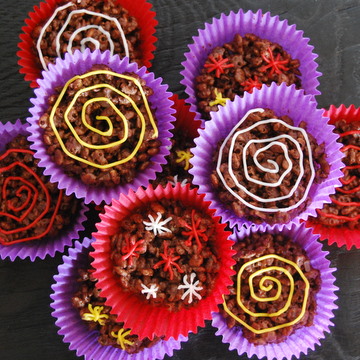 Tamsin: There is more than meets the eye or rather the ear when you bite into these chocolate crispies – a surprise that is perfect for Bonfire Night. A hidden ingredient, 'space dust' or 'popping candy' gives them an extra snap, crackle, pop and fizz. (Reminded me of the firecrackers, now banned, that we use to let off in the garden and watch as they jumped around perilously near us.)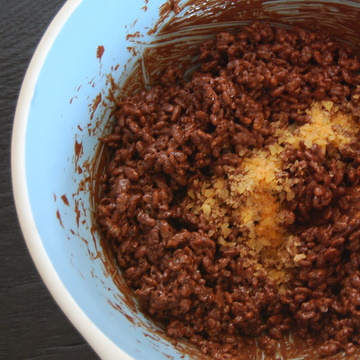 To make 12 of these firecrackers I melted 150g chocolate (milk or dark) and mixed in 175g Rice Krispies (or any other cereal of your choice). Leave the mixture to cool for just a few minutes, making sure that it does not start to harden, as the candy will start popping too early if put into a mixture that is wet or hot.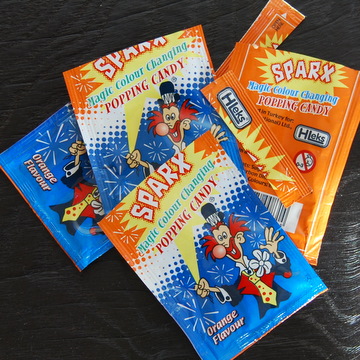 I then added 4 packets of popping candy which can be bought in an old-style sweetshop or from
websites
, and decorated them with some icing. They gave a pleasing popping sensation in the mouth, as long as you have the right technique when eating.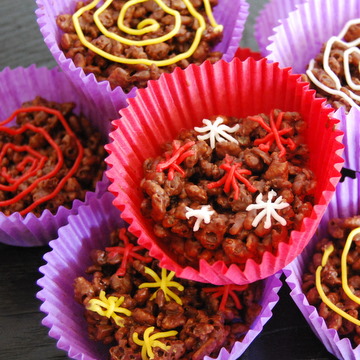 For best results crunch but also suck each mouthful and your tastebuds will fizzle and pop nicely.

---